I have developed a healthy cynicism regarding the efficacy of my chosen profession. We've run down many blind alleys on our client's penny in the search for a new fresh marketing approach. We've brainstormed to create the ad that people discuss over coffee, the ad that delivers an unimagined vein of new prospects. We've pondered the alchemy of integrated media that transforms tepid consumer responses into unheard of leads for a hungry sales team.
I have a deep interest in how things are marketed, promoted, advertised, positioned or simply spoken about. I often wonder aloud how clients allow some marketing rubbish through, full of grammatical errors and devoid of any central idea that serves to build some credence for their brand. Conversely, I really love coming across work that simmers with restrained energy. Work built around a clear and simple idea. The kind of work that results from a client/agency relationship built on trust and belief. This kind of work is easy to pick. You can see the central premise and the purity of the initial idea presented to a client. Interestingly, work like this is rarely improved by input from a global marketing team imposing the generic requirements of marketing commoditisation. But global campaigns that stay the course can work.
That's why, having just bought a few VWs for our cycling team mobius Future Racing, we will no doubt one day buy a Skoda.
Skoda is a long established brand that started life in 1895 – a Czech manufactured vehicle that had a reputation as a technically flawed eastern block car – some may say in the same class in terms of style and reliability as a Russian-made Lada. But things changed when VW acquired 30% of the company in a joint venture with the Czech Government in 1991.
For as long as I can remember, the 'Skoda – Simply Clever' tagline has annoyed me no end, probably because I didn't really believe it, or understand it until I started to write this viewpoint. But that's the point – it's been around forever, relentlessly appearing at the end of every piece of comms produced – chiselling out a defined proposition for the brand.
Who can forget the ad for the sporty 2 door Fabia that showcased a barely restrained highly tweaked Fabia being reluctantly tamed by Skoda technicians as it comes off the production line. Then recently they launched the Skoda Superb. "Why stick with that pretentious, daggy old person's name," I said to myself? Then I find out that it is a serious piece of mid-size luxury vehicle, accolades everywhere – regardless it's prosaic naming.
I think I first noticed Skoda while watching the Tour de France on SBS many years ago. As the official car of the event, you got to see them following the race in convoy and advertised within the telecast to the point of distraction as SBS never had that many advertisers. This had the effect of advertising fatigue in concert with my actual fatigue as I battled to stay awake night after night. But what's significant is that Skoda to this day continues as the vehicle sponsor of the Tour De France, one of the world's premier sporting franchises and continues to advertise within its telecasts in Australia. And even if they didn't, I am sure I would still think they do. Basic, solid marketing strategy – clear master brand association through event sponsorship, underpinned by in-telecast advertising for brand models.
But what sealed it for me was the ads that appeared a few years ago, more slice of life vignettes of Skoda Octavias faithfully doing their jobs within the vehicle caravan following the Tour, getting banged up, side swiping sheer granite walls, taking short cuts across rocky fields and just doing everything required by the riders and their teams. This was in my view 'gold' as the ads looked, for all intents and purposes, to have been filmed by people on the spot and in the actual cars themselves. They portrayed Octavias as hard working, sporty, no-nonsense, sturdy vehicles – good enough to be selected to support the world's best athletes, and faithfully doing everything asked of them. Who wouldn't want a station wagon that could do all that?
So by now a reasonable question would be, why didn't you buy Skodas for mobius Future Racing? The answer was simply the deal, and we could get 2 vehicles of the same make, one wagon and one van – Skoda doesn't make a van. It was just neater too.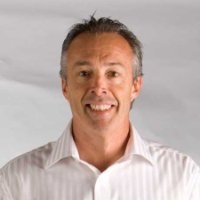 Guy Bicknell
The agency's senior suit and more. With over 25 years brand development experience in Australia, Singapore & Japan, Guy offers the marketing knowledge, strategic insight and creative acumen needed to ensure your product & communications solutions have a winning edge.
Linkedin